Like many young girls, I started playing hockey by playing ringuette.  I still remember the first day of my practice, with my white "girl" skates.  I felt so out! Wanting to play at all costs, my father equipped me. I can still see us at the store when they bought me my first skates; black and white Daoust 301.  I remember arriving at my second practice, I felt great with those skates.
IS IT STILL AS DIFFICULT FOR A GIRL TO BE IN A BOY'S HOCKEY LEAGUE?
Today, a girl who plays in a boy's league, does she experience the same thing as I did? Does she have to fight to show that she belongs?  What is the integration of our girls today versus my time?  Today I laugh about it, but back then, when I was a player and I knew I was going to play against certain teams, I was so stressed.
HOCKEY SHOULD BE FUN, NOT A COMPETITION OF THE GENDERS
I can tell you that I've been hit a lot. How many body-checking I've had, how many times I've been tripped up laughing and yelling that I couldn't stand up. Some even managed to get the paddle of their stick into the hole of my skate blade to lift my leg and knock me down on the ice. I'll long remember the double fail I had…I just stamped in the rink! I think my back still reminds me of that today!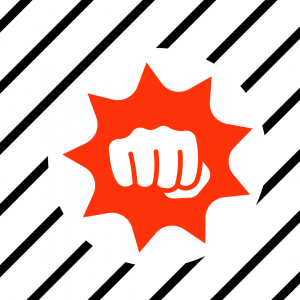 FIGHTING TO MAKE IT IN A MEN'S HOCKEY LEAGUE?
The worst time was when I had successfully outplayed an opponent. He started yelling at me telling me to go play with my Barbies. He started to push me by hitting me in the shoulder, I pushed him back.  The exchange of scuffles lasted maybe 30 seconds at the most, until I told him that if he wasn't happy, he could go play somewhere else, but that I wasn't leaving the ice. I got punched in the marble! It stunned me, but not enough not to retaliate. I "dropped" the gloves and threw a whole punch.  Well, I admit it, it wasn't my best move… he had a grill. His helmet came off and I slapped him with another one.  Okay, settling things with violence, I was never into that.  But I had to fight to get respect in the league.
           
NO MATTER WHAT THE OUTCOME…I ENJOYED PLAYING HOCKEY…
I had to stop after this season, because we moved. Then it was ball hockey that took over.
That was over 30 years ago.  Many players at that time were not very happy to see a girl in the league who could play. I can say that I was a very good defense for my goalie.  Still, playing ice hockey has been one of the most rewarding experiences for me!
Le hockey a toujours fait partie de la vie de Shirley. Ancienne joueuse, elle adore être supportrice! Ayant toujours aimé l'écriture, elle aspire à devenir auteure de ses propres romans.
Dynamique et enjouée, sa devise: Une journée à la fois !