Maxence Parrot wins Olympic gold, three years after beating Hodgkin's lymphoma. Jessica Long, who had both legs amputated at a young age, is a true Paralympic swimming legend. When you think about it, life often offers a second chance and for many, it's in sport. Vincent Boily was no exception.
A 2nd chance for Vincent Boily
Victim of a snowmobile accident in 2017, only a few times after signing a contract with a QMJHL team. He has to resign himself. The accident almost paralyzed his legs, so he can no longer practice the sport he has been passionate about since he was four years old.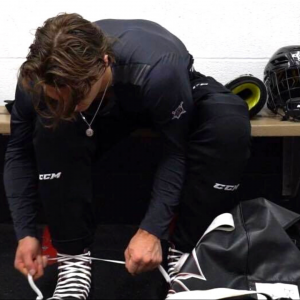 "I didn't originally want to do parahockey. I didn't even know it existed." It was Patrick Desnoyers, a parahockey player and paracyclist, who approached Vincent during an impromptu meeting at a physio.
"He came to me and told me about parahockey. At first, I wasn't keen because I didn't want to do the same sport, but practiced differently. For me, it was stand-up hockey or nothing".
But, little by little, the idea of doing parahockey slowly grew in Vincent's head. Two or three years after his accident, after trying rowing and other sports that left him wanting more, Vincent gave parahockey a try. The result: he fell in love with the sport for a second time.
"I worked on the ice, I found my hockey references from before, everything I loved about hockey, I found it in parahockey".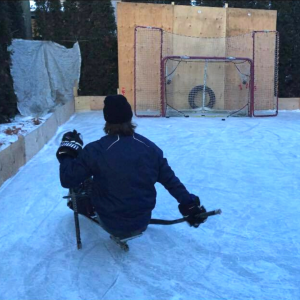 A rekindled flame
To see a dream come crashing down after an accident is something no one wants to experience. Although Vincent often wondered where hockey would take him, he found the competitive spirit that drives him with parahockey. After a year and a half, he participated in October in his first competition with one of Montreal's teams. He came out with nothing less than gold!
This is a great demonstration of the perseverance and resilience he had to show to recover from his accident. This has also served him well in his young career and in his personal life.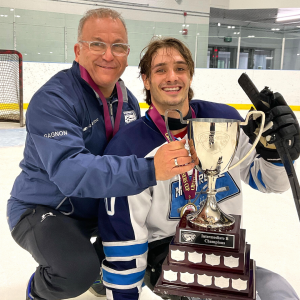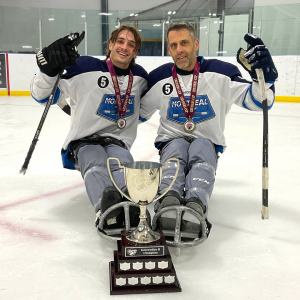 "My whole life in hockey, I was in the smaller guys all the time, I wasn't the toughest guy. I had to work harder than the others. I was always cut and I always came back the next year and I was stronger than the others. It was hard work that got me there because I wasn't the most talented." 
Change of plan, but never without his hockey
"I always believed in my chances. My goal was not to make the NHL, although that could have happened. I had a plan to go back to school when I was about 25-26 after a few years of playing in Europe. When I had my accident, my plan was completely turned upside down. I had to start my studies earlier, to turn more towards school, because I didn't have hockey anymore. I didn't have what I dreamed of. Now, for sure, I want to make the national parahockey team, to be able to compete against the best and travel all over the world."
Winning the competition in October allowed him to get back into his routine from before, to eat well, to get back into his habits. "I missed that hockey atmosphere so much. Parahockey gave me a second chance and a good life. Parahockey allowed me to go and play at the arena with friends or on the outdoor rinks where they play standing. Just the sport is so much fun too, it brings people together."
The one who wishes to be an ambassador of parahockey to make the sport grow and give it scope had to learn and relearn certain skills in parahockey. Now more than ever, he feels good about the sport that has given him a second chance. Seeing the energy and perseverance he puts into it, let's bet that we will hear a lot about Vincent Boily in the next few years.
Passionnée de hockey de 18 ans, je suis gardienne au parahockey. Partisane de hockey féminin et de hockey masculin, je ne manque aucune partie de nos équipes nationales masculines et féminines et des Canadiens de Montréal!