Katerine Aubry-Hébert has been the Quebec women's hockey development coordinator since 2018. Last fall, she became a recruiter for the Quebec Major Junior Hockey League (QMJHL) Recruiting Centre. Although she never became a professional player, she has always known how to go for it and open doors. Her strength of character allows her to move forward relentlessly.
Katherine Aubry-Hébert: her relation with hockey
Her love for our national sport began as a child. She never missed a Canadiens game and regularly went to play hockey with her friends after school.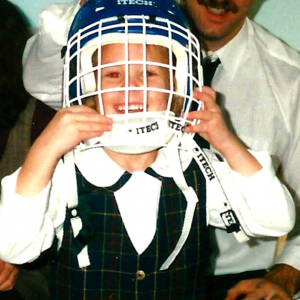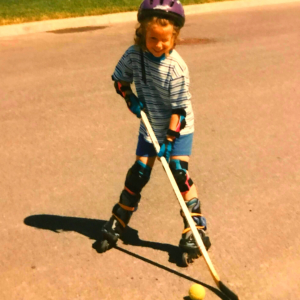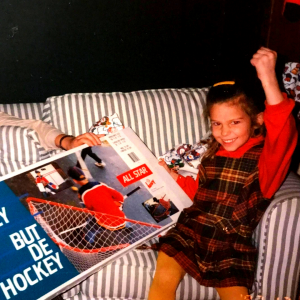 Two men in particular inspired her: Jocelyn Thibault and Yanic Perreault. When Katerine played hockey for fun, she admired the goalies. That's why, for a long time, Jocelyn Thibault, now general manager of Hockey Québec, was her idol.
"I liked Jocelyn Thibault a lot. I don't know if he remembers, but my old manager had already told him about this. Being a goalie was everything to me, so I watched them a lot. He was the Canadiens' goalie."
Now the DG will know! He was the idol of the women's hockey coordinator at Hockey Québec!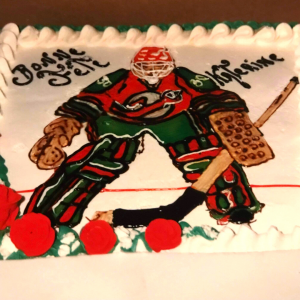 Katerine started playing hockey quite late. She, who hung out a lot with the boys, didn't know it was possible to play on a girls' team. So Aubry-Hébert played recreationally with the boys and then, when options opened up for girls, she went to play with the women's hockey team. She is keen to talk about the challenges she faced.
"I needed to make my mark. I didn't play at a high level. I'm not a former professional player, so on that side, I felt a little bit of pressure at first, to show that I belong. To show that just because I'm not a former player doesn't mean I don't have skills."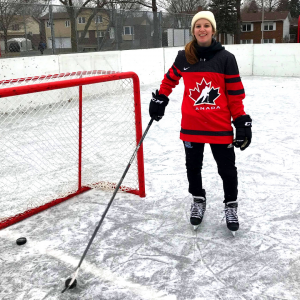 The pleasure of management
With a bachelor's degree in marketing administration from UQAM, Katherine was the administrative services and events coordinator in the QMJHL for four seasons. She admits she loved her experience. It was an experience that allowed her to grow and develop. Katerine praises Pierre Leduc, Director of Hockey Operations in the Courteau circuit. "Pierre Leduc was my manager and mentored me a lot. It was my first professional job and he took me under his wing. I learned a lot from him by going to games and talking about hockey with him," she admits.
About her job at Hockey Québec, Katerine explains that her role lets her touch different facets of hockey, from operations to coaching, development, recruiting and events. She has a big dream: to be in the hockey operations of a professional team.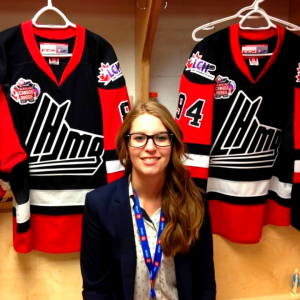 "Right now, I love both of my jobs. I plan to continue in this environment. After that, there are many things that interest me in hockey, whether it's operations in a professional team eventually, development or recruiting. […] For sure, working on a National League team is my biggest dream."
The future of Quebec women's hockey as seen by Katerine Aubry-Hébert
Regarding the future of women's hockey, Katerine Aubry-Hébert sees two major issues: the creation of a professional league and the constant growth of the pool of players. She believes that Jocelyn Thibault will be able to help move these issues forward. The coordinator of women's hockey development in Quebec reminds us of the importance of role models for young girls.
"We want to continue to grow and have more visibility. That's for sure important. The arrival of a professional league is very important. I know that there are some who are working very hard on this, including Danièle Sauvageau. It will give a lot of visibility to women's hockey and accessible models to our young girls. This is an avenue that we are working on for them. We must also continue to grow our pool of players. We've been stagnating at this level for several years now and it dates back to before I arrived at Hockey Québec." 
One thing is certain, it's obvious that women's hockey can only progress under the leadership of Katerine Aubry-Hébert. She's a brilliant, intelligent woman who is determined to do everything possible so that women's hockey in Quebec can grow and become even better.
Tristan, étudiant en Journalisme à l'UQAM, est un grand passionné de hockey et souhaite pouvoir véhiculer les valeurs humaines du sport. Impliqué dans le hockey féminin depuis 2018, il est à la description des matchs des équipes de hockey du Boomerang du Cégep André-Laurendeau et travaille aussi dans le monde des médias.