September brings many good news, including the return to classes, and therefore, to university sports. To mark the occasion, what better way than to introduce you to Isabelle Leclaire! 
Carabins of theUniversité de Montréal. She has been involved with the program since the very beginning. A native of Lachine, she has been spending her time in arenas for as long as she can remember.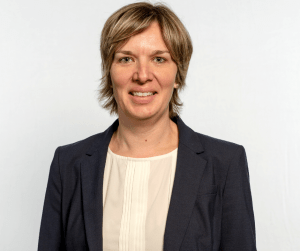 His beginnings with hockey
It all started with her older brother: "He played organized hockey. He always wanted to bring his little sister with his friends and the easy position was to send her into the net. That's where my passion for hockey started," says Leclaire.
She also mentions that she wanted to start playing hockey, but at that time, there was no hockey for girls.
«When i told my father that i wanted to play hockey, the context was different than today. In the end, he was the one who pushed for me to be allowed to play this sport and since then, since i was five years old, i have always been in hockey.»
As a result, Isabelle played at the collegiate level for three years before moving on to the professional ranks. She played for the Bonaventure Wingstars, the Sainte-Julie Panthers, the Metropole Cheyenne and the Quebec Avalanche, with teammates such as France St-Louis, Caroline Ouellette and Nancy Drolet, to name a few.
A life-changing encounter: coach Danièle
In our lives, there is always an encounter that is more significant than any other. In the case of Isabelle Leclaire, it's simple. This person needs no introduction. She is the queen of women's hockey in Quebec, it's coach Danièle. . 
Danièle Sauvageau is probably the most important person in Isabelle Leclaire's career path, when she was employed by the Cégep de Saint-Jérôme. "I had a position in the coordination and direction of the hockey program at that college. I was in charge of starting a tournament, especially the hockey academy, which was named after Danièle," Isabelle recalls. She never thought that this would have a major impact on the rest of her career.
An impressive career
For five seasons, Leclaire was in charge of the Daniele Sauvageau Hockey Academy before coaching in minor hockey. Isabelle was also an associate coach with the now defunct Montreal Stars. She tells us how she was hired by Daniele to be in charge of the Carabins.
« I was working atINSQ and Danièle was there too. I was inbvited to a christmas party and we met there. She asked me to join her program and the rest is history. »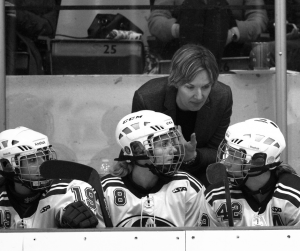 Isabelle mentions that hockey has allowed her to meet many people such as Stéphanie Poirier, Pierre Alain and many others.
Danièle Sauvageau, director of the Université de Montréal Carabins women's hockey program, doesn't mince words when describing the woman who has been her confidant with the Blues for the past 12 years.
« Isabelle has always had great potential in coaching. Her hiring was one of the best decisions made in the university's carabins program. She is a person with great values. The three words that represent her well: value, integrity and ethics. »
As for her
results
with the Carabins, Isabelle Leclaire has an impressive record: 
RSEQ Championship:

2019, 2016, 2014, 2013

RSEQ Coach of the Year: 2019, 2018, 2013

Canadian University Championship: 2016, 2013

National Silver Medal: 2014 et 2012

National Bronze Medal: 2019 et 2015

Regular Season Championship: 2019, 2018 et 2016

Women's Coach of the Year at the Gala du sport universitaire du Québec: 2016, 2013 et 2012

Gold medal at the Universiade in Trento, Italy: 2013

Clarkson Cup: 2009

Dodge Cup midget AA: 2008

Bronze medal at the Canada Games: 2007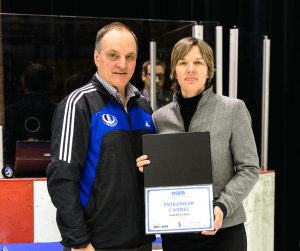 In conclusion, Isabelle Leclaire is a passionate, determined and dedicated person. When you see her career record, it is very impressive. One wonders if one day Hockey Canada will call upon her services. One thing is certain, beyond hockey, she is a great humanist who deserves to be known by many others.
Tristan, étudiant en Journalisme à l'UQAM, est un grand passionné de hockey et souhaite pouvoir véhiculer les valeurs humaines du sport. Impliqué dans le hockey féminin depuis 2018, il est à la description des matchs des équipes de hockey du Boomerang du Cégep André-Laurendeau et travaille aussi dans le monde des médias.